Oh how I wish Sunday could be a 48 hour day. More time to do everything Sunday brings my way...except the laundry! In particular, vegging with my coffee and the Sunday Philly Inquirer AND perusing all the
Scavenger Hunt Sunday
contributions. So much to see, so little time...sigh. Funny how some weeks present prompts that bruise my brain. Yet other weeks are like buttah! This was a buttah week for me. A plethora of personal prompt pleasing pics to ponder. Which apparently results in a preponderance of alliteration too, haha...sorry.
And on to this week's prompts:
1. Hazy
"Morning Has Broken"
Horsham, PA
linking to: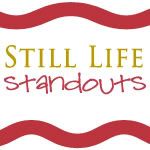 This MIGHT just be one of my favorite photos, and I came upon it 100% by chance. Chance that I scheduled a meeting so early in the morning, chance that I was uncharacteristically kind to Thing #3 and offered to drive her to school so she could spend 10 extra minutes on her hair, chance that I was running ahead of schedule instead of behind as usual, chance that I even remembered to throw my camera in my bag. Ten minutes to kill after the school drop off meant a quick trip to a neighborhood park and voila. I love how the morning dew sparkles on the grass and the layer of morning haze looks so velvety. BTW, I was late for my meeting...what are the chances?!?
2. Inspired by a book or movie
"The Pearl" by John Steinbeck. This is the strand of pearls my Granny gave me when I got married 29 years ago. Classics are classics...whether a novel, or a piece of jewelry.
3. Brown
"Solitaire"
State College, PA
How now brown cow....or horse. Heading home from Penn State I drove by this pasture and slammed on the brakes. Thank goodness I was alone or my Better Half would have lectured me about there not being enough shoulder on the road to safely pull over to take a photo. Peeeeshaw! That's what blinkers are for.
4. Linger
"Autumn's Palette"
State College, PA
Autumn's saturation of vibrant colors and perfect temps just never seem to linger long enough. Yet, heat and humidity always outstay their welcome.
5. Coffee or Tea
Coffee or Tea
(a nursery rhyme)
Molly, my sister, and I fell out,
And what do you think it was all about?
She loved coffee and I loved tea,
And that was the reason we couldn't agree.
And there ya have it...another week of Scavenger Hunt Sunday. I hope you all have a relaxing and blessed day. And MOST importantly.....Let's Go PHILLIES!!!!!
--Kathy
linked to: